"Your work is powerful, timely and clearly expresses your deep commitment to the issues you explore, as is demonstrated in your exhibition title Fire, Fury and Resilience: Totem Witnesses and Turtle Wisdom."
Mary Schneider Enriquez, Curator, Modern & Contemporary Art, Harvard University, 2022
"An artist of great skill and immense empathy, LaDuke has used the indefatigable power of her optimism to do battle with inhumanity – its violence and anger, its horror and injustice – through her art."
Bruce Guenther, Art Historian and Independent Curator, 2022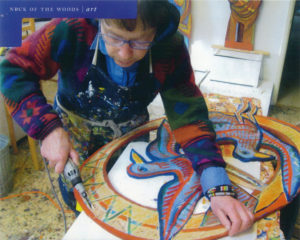 Read review of TURTLE WISDOM as part of FIRE, FURY, and RESILIENCE, Grants Pass Museum of Art, Spring 2022, Southern Oregon Magazine.
Turtle Wisdom Exhibit Information
Available: 24 wood shaped, carved and painted panels, 32 x 24 inches.
Contact: Betty LaDuke at bladuke@jeffnet.org or call (541) 482-4562
Current Exhibit: Turtle Bay Exploration Park, Redding, CA, 2023
Fire, Fury, and Resilience: Totem Witnesses and Turtle Wisdom
exhibit information also available.